Cool Smoking Bundles For Your Stash
Daily High Club Review - UPDATED Sep 2023
Advertiser Disclosure
Top10SubscriptionBoxes.com is an independent website supported by referral fees of certain sites ranked on this site. Our site receives compensation from some of the subscription box sites whose products we present here. Compensation we receive impacts the ranking of the products. Other factors such as quality of the products, our own opinions etc. may impact the ranking as well. Top10SubscriptionBoxes cannot and does not present information about every subscription box available for purchase.
Close
Daily High Club was created by a group of smoking enthusiasts who wanted to bring the ultimate smoking pleasure to fellow tobacco lovers. Smoking is largely frowned upon and the goal of Daily High Club is to turn that frown upside down and spread love for a good smoke. In spite of the stigma attached to this guilty pleasure, the smoking industry has been flourishing and so came the exciting accessories that this service brings to the homes of adventurous smokers around the world. In this Daily High Club review, we will take a peek into these unique smoking accessory subscription boxes.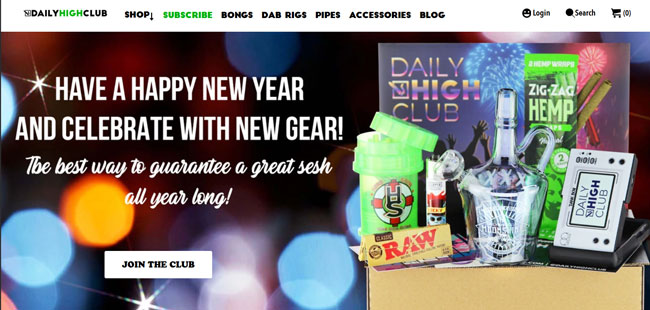 How Daily High Club Works
Daily High Club is a subscription service that boasts an impressive selection of smoking accessories combined into subscription boxes shipped out every month. It allows you to choose from three different box types that differ in the number and quality of items they contain.
You can opt for the most basic box that contains papers, filter tips, and other essentials and effortlessly stock up on the items you use every day. The other two boxes are designed for more passionate smokers who want to receive only top-quality merchandise that ranges from smoking essentials to extraordinary rigs of all shapes and sizes. Read more about them in the What You Get section of this Daily High Club review.

By subscribing to the service, you get to receive a new box of your choice every month and the items come with a 100% satisfaction guarantee. If you are not happy with your box, you can return it and receive a refund up to 14 days after the delivery. The returned items must be unused.
You can cancel or change your subscription at any time. Furthermore, if you have missed a box you would really like to have, you can check whether it is available at the Daily High Club store. The company often makes the most popular past boxes available at its store for a limited time, so be sure to stop by regularly.
If you have any questions, you can contact the company's friendly staff via email or phone. However, if you want a fast response, sending them an email is a better choice.
What Makes Daily High Club Different
Daily High Club offers smoking supplies you are not that likely to find anywhere else. It brings carefully curated boxes to your door every month and takes great care that the value and the quality of the goods are always the same, so you never get disappointed.
The boxes are created to satisfy the needs of all smokers. Regardless of whether you are a casual smoker or you have fully mastered the art of smoking, Daily High Club has just what you need to take your smoking experience to the next level. What is also great is that the boxes are billed and shipped with utmost discreetness, so no one will ever know what is in the boxes you receive every month.
If you want to spread the word about Daily High Club, you can refer a friend and get some cash to spend on your smoking supplies as a thank-you gift. For every successful referral, you get $4.20.
What You Get
In this section of our Daily High Club review, we will (finally) take a look inside each of the company's subscription boxes. Before we do, we would just like to emphasize that the content of the boxes is different every month (except for the All-Natural box), so we will just give you a hint of what you can expect to get.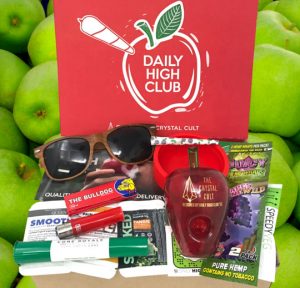 Let's start with the most affordable All-Natural box. This one is designed to provide you with all the essentials made of high-quality, natural materials. The items in this box include 1.25-size papers, filter tips, 3.3' organic bee wick, and a matchbook.
The Connoisseur box is created for passionate smokers who keep only the finest goods in their stash. This box allows you to try 7 to 9 new products every month. The boxes are curated by real smoking experts, so you know you are only getting the good stuff.
Finally, the El Primo box is for the most enthusiastic of smokers. It is designed as a massive gift you can give to yourself and can contain everything from awesome rigs, blunt rollers, blunt wraps, lighters, pipe cleaners, and incense cones to pocket ashtrays, hemp wick, and more. It always contains the basics as well as super-cool glass that is sure to impress your smoking buddies.
Gift Options
If you know someone who enjoys smoking as much as you do, you can find a gift they'll love in the Daily High Club store. There you can find the most popular boxes sent out so far, cool accessories and apparel, artistic and scientific glass, dry pipes, water pipes, and vaporizers. The store is chock-full of useful items such as rechargeable flameless electronic USB lighters and incredibly fun items such as edible candy pipes. You can choose from dozens of products, so there is almost zero chance for you not to find something you like.
Pricing
All Daily High Club boxes are rather affordable. The All-Natural subscription costs only $1 per month while the Connoisseur subscription is $12 per month. The El Primo subscription is the priciest box, as expected, and it costs $30 per month. However, if you decide to get the 6-month El Primo subscription, you can get your boxes at the price of $27.5 per month. This is more than reasonable, as each El Primo monthly box contains items worth $80.

Price: $12.00
Shipping cost: free in US
Ships from: United States
Ships to: Worldwide
Delivery
Daily High Club delivers its boxes worldwide. Within the US, shipping is free for the Connoisseur and El Primo boxes while the All-Natural boxes come with a $2 shipping and handling fee.
Customers ordering from Canada pay an $11 shipping fee for the El Primo boxes, a $7 shipping fee for the Connoisseur boxes, and a $3.25 fee for the All-Natural boxes.
Customers who do not live in the US or Canada pay an $18 shipping fee for El Primo boxes, an $11 shipping fee for the Connoisseur boxes, and a $3.25 fee for the All-Natural boxes.
Pros
High-quality smoking supplies
3 different boxes tailored to different smoking needs and habits
Affordable and flexible subscriptions
A variety of useful and cool items in the online store
100% satisfaction guarantee
Discreet billing and delivery
Referral program
Ships worldwide
Cons
You may have to wait more than 3 weeks for the box to arrive
Bottom Line
Daily High Club is an excellent choice for smokers looking for a more convenient and discreet way to stock up on essentials and explore the exciting world of smoking accessories. The smoking supplies this service provides are high-quality and hard to come by and the subscriptions are surprisingly affordable. The only problem is that it may take some time for your box to arrive, but it is definitely worth the wait.