Outdoor Gear For True Adventurers
Cairn Review - UPDATED Sep 2023
Advertiser Disclosure
Top10SubscriptionBoxes.com is an independent website supported by referral fees of certain sites ranked on this site. Our site receives compensation from some of the subscription box sites whose products we present here. Compensation we receive impacts the ranking of the products. Other factors such as quality of the products, our own opinions etc. may impact the ranking as well. Top10SubscriptionBoxes cannot and does not present information about every subscription box available for purchase.
Close
Cairn is a subscription box company that specializes in high-quality equipment for outdoor activities. Every month, it creates new boxes filled with various useful items, ranging from apparel and gear to skin care, emergency kits, and food. If you are an outdoor enthusiast in search of good equipment that can help you up your game, check out this comprehensive Cairn review for more details about this company's offer.
How Cairn Works
Cairn is a subscription-only service. In order to receive the products in its offer, you need to sign up and opt for one of its subscriptions. You can choose between the Original boxes delivered monthly and the more luxurious Obsidian boxes delivered quarterly.
The two types of boxes completely differ in terms of content, with the Obsidian kind containing larger and more expensive items. All Cairn boxes are mystery boxes and you do not know in advance which items you are going to get, which is a part of their charm, as long as you like surprises.

The monthly subscription boxes are shipped during the middle of the month while the quarterly subscription boxes are shipped the first week of March, June, September, and December. Your subscription is renewed automatically. You can cancel your subscription whenever you wish, just make sure you do so before the 1st of your billing month. If you are not happy with your box, you can return it and get a refund, as long as all the items are in the original condition.
The Cairn website features an extensive FAQ section where you can find answers to the most common questions about subscription, billing, shipment, gifting, and other, general matters. If you require assistance from the Cairn staff, you can get in touch with them via email, phone or chat.
What Makes Cairn Different
By subscribing to Cairn, you get the chance to regularly receive excellent outdoor gear for a fraction of the retail price. Every month, the content of the boxes is different and the kind folks behind Cairn make sure all customers get the gear that best suits their outdoor lifestyle. The items in your boxes are selected based on the activity preferences you state when signing up.

You can get your hands on some free Cairn merchandise by collecting points. You get points when you complete your demographic profile (25 points), leave Original box product feedback (25 points), leave Obsidian product feedback (75 points), and every time you refer a friend (100 points for every successful referral). You can exchange your points for a Cairn hat (250 points), a Cairn T-shirt (250 points), a free month of Original box subscription (250 points), 1-month Original box gift subscription (250 points), 3-month Original box gift subscription (750 points), 6-month Original box gift subscription (1500 points), a free Obsidian box (2000 points), and an Obsidian gift box.
In an effort to keep its customers happy, Cairn has also introduced Adventure Upgrades. Every month, a few lucky subscribers get amazing gifts, such as tents, sleeping bags, boots, solar kits, snowboards, skis, and more.
What You Get
As we have said before in this Cairn review, you can choose between the Original and Obsidian boxes. The Original boxes contain 3-6 outdoor products worth up to $50 in retail value and they are delivered monthly. The Obsidian boxes contain 5-10 premium outdoor products that are worth over $300 and they are delivered quarterly. The Obsidian boxes come in limited quantities.
The content of the boxes is always amazing but never disclosed upfront. You can get various kinds of gear, clothes, food, medical and emergency supplies, and skin care products. The items in the Original and Obsidian boxes never overlap.
Apart from the mystery boxes, you can also buy Cairn apparel. The items at your disposal include T-shirts, tank tops, trucker hats, low-profile hats, and patches.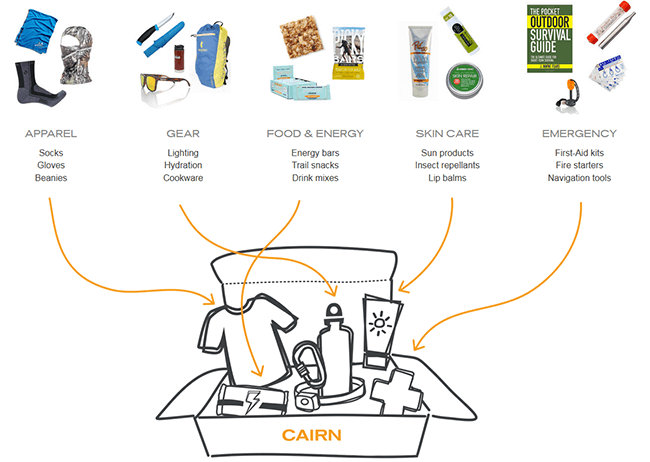 Gift Options
Everything you can get for yourself, you can also get for your adventure-loving, thrill-seeking friends. You can give them gift boxes and gift subscriptions. You get to choose between the Original and Obsidian gift boxes.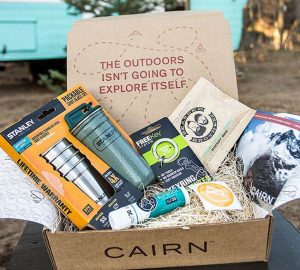 With the Original gift boxes, you can choose between the 1-month, 2-month, 3-month, 4-month, 5-month, 6-month, and 12-month gift subscriptions. The prices range from $29.95 to $359.40. If you want to buy someone the Obsidian gift box, you can spring for 1, 2, 3 or 4 quarters. The Obsidian gift subscription prices range from $199 to $796.
If you are looking for more affordable but still cool and useful gifts, you can purchase Cairn apparel for your outdoorsy friends. As we have mentioned before in this Cairn review, you can get a gift for someone you care about without spending any money on it, by collecting points and redeeming them for gifts.
Pricing
If you opt for the Original boxes, you can save money by opting for a longer subscription. You can choose from 3 options, including the 1-month, 6-month, and 12-month subscriptions. The 1-month subscription costs $29.95, the 6-month subscription is $165.50 ($28.25 per month), and the 12-month subscription costs $329.40 ($27.45 per month). With the Obsidian boxes, only the quarterly subscription is available and it costs $199.
As far as the prices of Cairn apparel are concerned, most of the items cost the same. All T-shirts, tank tops, and hats cost $20 each. Cairn patches cost $7.50 per 3-patch pack.

Price: $29.95
Shipping cost: free in US
Ships from: United States
Ships to: United States
Delivery
Cairn delivers all across the US and also offers international shipping. The monthly boxes are shipped via USPS while the Obsidian boxes are shipped via FedEx, UPS or USPS, depending on the recipient's location. A tracking email is sent once the box is dispatched, so you can track your shipment.
Shipping is free on all subscriptions within the US. If you are ordering Cairn apparel, keep in mind that shipping is only free on orders over $25. For orders worth less than $25, you are required to pay a $4.95 shipping fee. If you want to have your merchandise delivered in 2 days, you can opt for expedited shipping, which also comes with an additional charge.
Pros
High-quality outdoor products
Different products every month
Receive items in accordance with your activity preferences
Excellent rewards program
Free shipping on all subscriptions and orders over $25
Ships all across the US and internationally
Cons
Possible disappointments due to the unknown content of the boxes
Bottom Line
Cairn can be described as a sort of Santa for outdoorsy people. Just instead of having your parents pick out and buy the gifts, you are the one who does the paying and Cairn picks the items based on your preferences and delivers them to your doorstep. This is why we believe that Cairn is a good choice only for people who like surprises. At the end of this Cairn review, we have to say that the items in the boxes are always top-notch equipment and useful nearly 100% of the time, so there is a great chance you will love what you get. On top of that, you can collect points and save cash on your boxes and Cairn apparel. If you are lucky, you may even get an awesome gift from Cairn thanks to its Adventure Upgrades give-away. All in all, while it may not be the perfect fit for everyone, it can be a great choice for many customers with an active lifestyle and a sense of adventure that extends into all areas of life, including shopping for outdoor gear.