The wonders of artisan wineries
California Wine Club Review - UPDATED Nov 2023
Advertiser Disclosure
Top10SubscriptionBoxes.com is an independent website supported by referral fees of certain sites ranked on this site. Our site receives compensation from some of the subscription box sites whose products we present here. Compensation we receive impacts the ranking of the products. Other factors such as quality of the products, our own opinions etc. may impact the ranking as well. Top10SubscriptionBoxes cannot and does not present information about every subscription box available for purchase.
Close
Way back in 1990, Bruce and Pam Boring came up with the interesting idea of creating a wine club of their own. They were inspired by the passion small family wineries in California put into their work. They decided to make it their quest to bring the well-deserved glory to these exquisite artisan wines. That was the beginning of the now renowned California Wine Club. Read this honest California Wine Club review to find out more.
Wine Selection & Quality
California Wine Club is all about the personal, caring, hands-on approach. They hand-pick the wines to be featured in their selection and offer handcrafted wines that are created with the love and care the mass-produced ones simply cannot get. Their success is probably their greatest recommendation, as they have managed to grow thanks to the numerous referrals from their satisfied customers.
Their decision to go with small family wineries was based on the fact that the wineries that produce wine in smaller quantities are not motivated by profit but great love and the sheer joy of bringing the perfect bottle to your table. Due to small-batch production, the wines can usually only be found at the winery itself or in California Wine Club. The quality of these wines is superior to anything you can buy in the store, which is confirmed by the awards given to every wine featured in California Wine Club's selection.
The wines are categorized into 6 wine club levels – Premier Series, Signature Series, International Series, Aged Cabernet Series, Pacific Northwest Series, and Case Club Series.
Premier Series
This is the most popular club that brings you wonderful artisan wines, which have received an award for excellence and can usually only be obtained directly from the winery. You can order both red and white wines, a mix of both or only one kind and you also get a copy of Uncorked, a guide to the winery.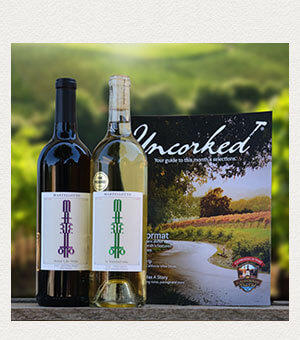 Signature Series
Here you can find only the finest wines rated 90 points or higher. Most of the time, the wines featured in the Signature Series can only be found in California Wine Club. Every month, 2 or 4 different independent wineries are featured and the wines are mostly red, but from time to time, some amazing whites are introduced into the selection. Just like in the case of the Premier Series, you get the Uncorked guide as a gift.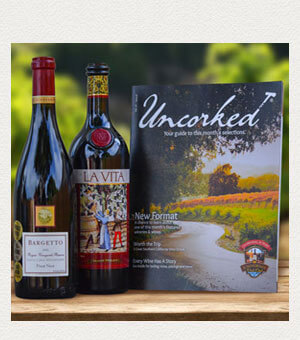 International Series
This wine club features wines created by artisan wineries from all over the world, including countries like South Africa, Argentina, Germany, and Australia. Every month, a different winery is featured and only the finest, handcrafted wines are picked. Every order is accompanied by a copy of Uncorked. Order both red and white or 2 reds, it is up to you.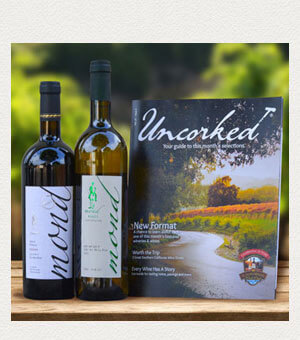 Aged Cabernet Series
This one is a real treat. You get to sample prestigious Napa Valley Cabernets that aged in optimal conditions for 8 to 12 years in the cellars of the most legendary Napa wineries. Enjoy 2 bottles of top-notch aged Cabernet every month and learn more about it in Uncorked.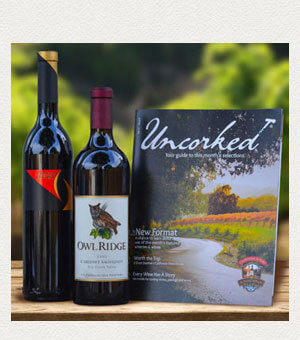 Pacific Northwest Series
While most wines in California Wine Club's offer are made in California, these wines come from the finest artisan wineries in Oregon and Washington. Due to the limited amount of bottles, you can only order 2 bottles, red and white or both red, every other month. Read more about them in your free copy of Uncorked.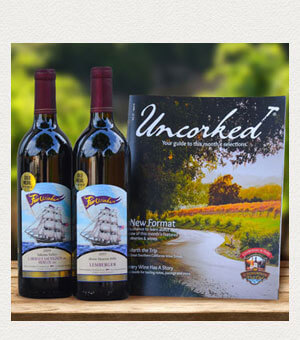 Case Club Series
Case Club Series lets you explore small-batch wines predominantly from California but Oregon and Washington as well. If you opt for this series, you get 12 quality wines each month. You can choose to receive both reds and whites, reds only or whites only.
What Makes California Wine Club Different
As we have mentioned before in this California Wine Club review, the main difference between this club and most others is in their choice of wines, namely, in sticking to small, artisan wineries. However, there are several other perks that make this club a unique and worthy choice.
In their efforts to make you happy, the Borings have introduced the much appreciated Love It guarantee. If you get a wine you do not like, you can get a replacement or a refund. You do not even have to send the bottle back. We think this is a lovely gesture and a true sign of how much they care.
What's more, you get to save $36 on average with every case and half case order, as you only pay $1 for shipping. In order to help you save even more, they offer up to a 50% discount for reorders and 10% off wine gifts.
Speaking of savings, you can get a $100 wine credit if you refer a friend. You only have to wait until your friend receives two paid deliveries, after which California Wine Club kindly notifies you that you have $100 to spend at their wine store.
As a member, you also get a personal wine consultant you can reach by phone or chat. If you have any wine-related or membership-related questions, want some advice on what to order next or need some pairing tips, you can ask your personal consultant and get tons of valuable information.
What we also found exciting was the fact that members get to enjoy VIP access to the wineries that are featured in California Wine Club. It is quite a unique experience – the VIP tastings, the private tours – and we certainly recommend you give it a try.
Finally, you know what they say, know wine to enjoy it more. California Wine Club lets you learn about wine in numerous ways. Apart from the above-mentioned tours and tastings, they offer a bunch of reading material, including their own Uncorked blog, recipes, tips, a varietal glossary, explanations of the most common wine tasting terms, and more.
Gift Options
California Wine Club lets you send wines from any series as a gift and you can choose how many months of wine you wish to give to someone, ranging from 1 to 12 months. Along with the wine and a copy of the Uncorked guide, the recipient of the gift also gets wine tips, wine luminary interviews, and more.

Apart from the monthly deliveries of wines from their 6 series, they also offer specialized gift boxes. At the moment, they offer corporate and all-occasion options. Whichever option you choose, you can talk to one of their wine consultants and create a unique gift for a wine enthusiast you care about or want to impress.
Club Membership & Pricing
When it comes to membership, California Wine Club opted for the no-strings-attached approach. The membership is free of charge, there are no cancellation fees and no commitment whatsoever.
Depending on which series you choose – and you can choose as many as you wish – you get to decide what you want to receive. As you could learn from this California Wine Club review, the offers differ across series, but as long as the selection of wines allows such combinations, you can order a mixed box – half reds and half whites – or decide on all reds or order all whites. You can get 2 to 4 bottles per delivery and opt for monthly, bi-monthly or quarterly deliveries. Now let us take a look at the prices.
The price of two bottles from the Premier Series is $40.45. This is the most affordable option. The Signature Series offers 2 bottles at the price of $134 on average, though the price can be significantly lower. The price range for 3 and 4 bottles of the Signature Series wines is $175 – $275. The average price of 2 bottles from the International Series wine is $71 while 2 bottles of the aged Cabernet cost around $231. The Pacific Northwest Series offers 2 bottles at the average price of $77. Finally, 12 bottles per month with the Case Club Series cost $159.
As we have mentioned before in this California Wine Club review, shipping is now only $1 per case and half-case order, saving you around $36. That is nearly as much as what 2 bottles of Premier Series wines cost!
Price: $19.50
Shipping cost: 1.00
Ships from: United States
Ships to: United States, Worldwide
Customer Support
Apart from your personal wine consultant, you have an entire staff of wine connoisseurs at your disposal. If you have a question or need some help, you can contact them via phone (toll-free and local), fax, email or regular mail. They also have live chat that you can use if you need a prompt answer. While they are normally quite responsive, they are only available during office hours, Monday through Friday, from 8 am until 5 pm Pacific time. If you send them a message at any other time, you can get a response no earlier than the next business day.
California Wine Club Pros And Cons
To make sure California Wine Club meets all your standards and expectations, it is important to know its biggest advantages and disadvantages. With a short overview of its pros and cons, you can easily decide if California Wine Club is the right company for you.
Pros
Wide range of artisan wines
Plenty of perks for members
Low shipping costs
Special gift boxes
Affordable wines
Satisfaction guarantee
50% off on reorders
Delivers all across the US and internationally
Cons
Customer support only available during office hours
Bottom Line
Wrapping up this California Wine Club review, we can conclude that there is not much you can hold against this wine club, apart from the lack of 24/7 customer support. They sell great, hard-to-find artisan wines, offer an impressive number of perks to their members, as well as some pretty nice discounts on reorders and $1 shipping. If you do not like a wine you receive, you can get a new bottle or your money back. On top of that, the membership is free of charge, there are no cancellation fees, and there are some pretty affordable wines in their selection. If you like artisan wines or want to give them a try, California Wine Club may be a great choice.