Ready-Made Meals For Veggie Lovers
Vegin' Out Review - UPDATED Nov 2023
Advertiser Disclosure
Top10SubscriptionBoxes.com is an independent website supported by referral fees of certain sites ranked on this site. Our site receives compensation from some of the subscription box sites whose products we present here. Compensation we receive impacts the ranking of the products. Other factors such as quality of the products, our own opinions etc. may impact the ranking as well. Top10SubscriptionBoxes cannot and does not present information about every subscription box available for purchase.
Close
Vegin' Out is a perfectly convenient and quick solution for vegans, vegetarians, and practically anyone who wants to experience the benefits of a plant-based diet. It offers ready-made, affordable vegan and vegetarian meals, freshly prepared and delivered to your door. Keep reading and discover more delicious details in this Vegin' Out review.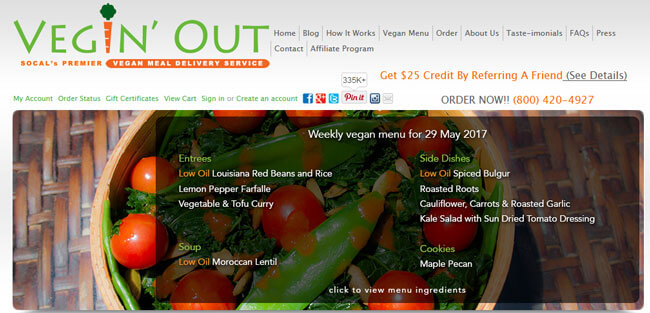 How Vegin' Out Works
Vegin' Out delivers professionally cooked vegan meals to your home or office every week. All you need to do is decide how many meals you want to receive (a single or a double order) and check if you like all the dishes on the current menu. If there is a dish you do not particularly like, you can remove it from your order and substitute it with another dish. Once you make your choice, all you have to do is wait for your delicious veggie-packed meals to arrive.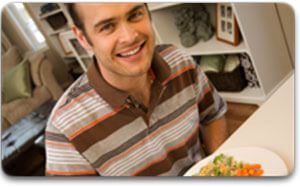 Subscribing to Vegin' Out is free – you only pay for your weekly deliveries of delicious vegan dishes. If you want to cancel your order, you should do so before 8 a.m. on Sunday before your Monday delivery in order to receive a full refund. For cancellations made after that time, you can only receive a 50% refund.
Vegin' Out meals come with a satisfaction guarantee. If you are not satisfied with your order, you should notify the company up to 2 days after you have received your food (Wednesday at noon) and you can get a full refund or a meal replacement.       
If you need help or want to get a better grasp of how Vegin' Out works, you can check out the comprehensive FAQ section. If this does not help you get the answers you need, you can get in touch with the Vegin' Out staff by filling out a form in the Contact section of the website. The company also accepts orders via phone.
What Makes Vegin' Out Different

Vegin' Out is one of the rare 100% vegan meal delivery services currently on the market. It uses nothing but the freshest ingredients available, organic whenever possible (85% on average). No eggs, dairy, meat, honey, and calcium caseinate are ever used when making the dishes. The meals are cooked by a professional chef, allowing you to enjoy restaurant-grade meals in the comfort of your own home.
You can customize your box by replacing one meal for another one available on the current menu or stating your wishes in the special request box while ordering. You can ask the chef to exclude certain ingredients you wish to avoid or request a gluten-free, soy-free or nut-free version of a menu item.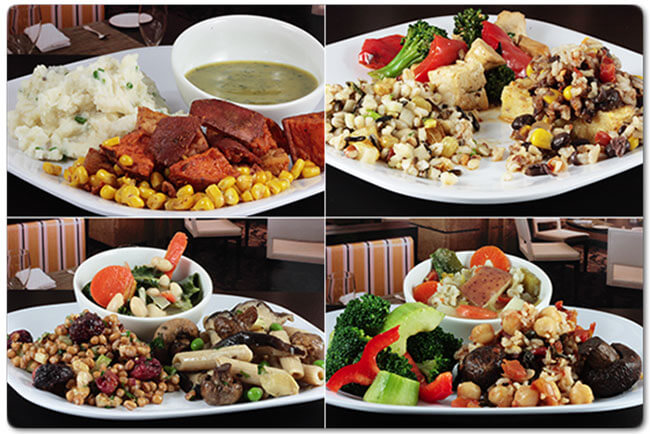 Vegin' Out strives to provide you with maximum variety, so you never get tired of its offer. The menus are repeated once every 8 weeks, so if you order from this company every week, you eat the same meals only 6 times per year.
If you are wondering whether Vegin' Out can help you shed some extra pounds, the answer is maybe. While it does not offer a specialized, certified weight loss program, if you only eat Vegin' Out meals, one portion per meal, and steer clear of any unhealthy snacks, chances are that you are going to lose some weight. However, there is more to weight loss than just a healthy diet and you should also try to work out regularly for better results.
If you like what Vegin' Out offers and want to share the news, you can refer a friend. If your friends state that you referred them and order from Vegin' Out, you can get a $25 discount on your next order. This discount applies for every successful referral.
What You Get
A single weekly delivery from Vegin' Out contains three 24 oz vegetarian vegan entrées, four 16 oz vegetarian vegan side dishes, one 32 oz vegetarian vegan soup, and 5 vegan cookies. If you want more food, you can opt for a double order (twice as much of everything) or order additional vegan entrées, sides, cookies, and salad dressings. Double orders can help you save around 10% on your deliveries.
Gift Options

Vegin' Out allows you to purchase instant gifts for the veggie lovers in your life. You can send gift certificates that can be exchanged for single or double weekly vegan meal orders. You can send someone a birthday, celebration, Christmas or just because gift certificate.
For deliveries in Los Angeles, the price of a single order gift is $127.99 and a double order gift costs $234.99. For deliveries in Southern and Northern California, the prices are $145.99 for a single order and $269.99 for a double order. Out-of-state, nationwide deliveries cost $189.99 for a single order and $360.98 for a double order. Gift certificates are not refundable.
Pricing
With Vegin' Out, there are no hidden costs and the company is completely transparent when it comes to pricing. The price of your weekly delivery depends on your location.
Single orders cost $127.99 for deliveries in LA, $145.99 for Southern California, and $189.99 for Northern California and nationwide shipping. Double orders cost $234.99 for deliveries in LA, $259.99 for Southern California, and $360.98 for deliveries within Northern California and nationwide. An additional vegetarian vegan entrée costs $13, additional vegetarian vegan sides cost $11 each, vegan cookies cost $ per bag while additional salad dressings cost $0.50 each. All costs are included in the prices listed above.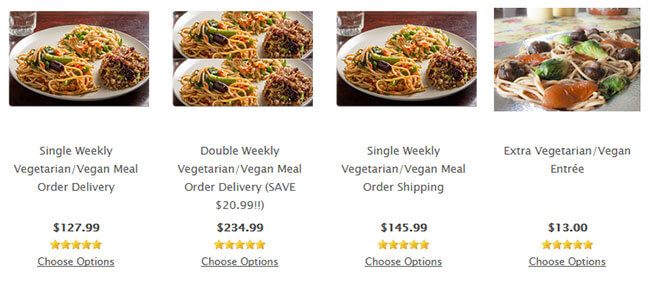 Price: $127.99
Shipping cost: $13.00
Ships from: United States
Ships to: United States
Delivery

As we have mentioned before in this Vegin' Out review, this company offers nationwide shipping (they do not deliver to Alaska and Hawaii) via FedEx. All orders shipped to Northern California and out of state are safely packaged in an insulated cooler box containing dry ice, with the freshness of the meals preserved by vacuum sealed bags. Once you receive your meals, be sure to put them in the fridge immediately, so they stay fresh until you decide to enjoy them.
Deliveries are made within 2-5 business days after you place your order. You do not have to sign for your delivery. If you are not at home, the driver can place your box somewhere safe, so it can sit patiently outside your home until you return. If there is no safe place where the food can be left, a redelivery is scheduled, with an additional $15-20 fee.
Pros
All menu items 100% vegan
Fresh, clean, 85% organic ingredients
Customization options
Additional items available
10% discount on double orders
Referral program
Cons
Only 8 meals on the menu
Expensive nationwide shipping
Does not ship to Hawaii and Alaska
Bottom Line
Vegin' Out is definitely one of the best vegan options on the market. All items on its menu are completely vegan-friendly, the ingredients are fresh, and the meals are cooked by a pro chef and delivered straight to your doorstep. You can customize your order, avoid ingredients you need or want to avoid, receive only the meals you like, and order additional items of your choice. You get to enjoy maximum convenience and amazing ready-made meals at a reasonable price, together with the luxury of spending less time in the kitchen and more time doing the things you love.