Perfectly Cooked Organic Vegan Meals
Trifecta Nutrition Review - UPDATED Sep 2023
Advertiser Disclosure
Top10SubscriptionBoxes.com is an independent website supported by referral fees of certain sites ranked on this site. Our site receives compensation from some of the subscription box sites whose products we present here. Compensation we receive impacts the ranking of the products. Other factors such as quality of the products, our own opinions etc. may impact the ranking as well. Top10SubscriptionBoxes cannot and does not present information about every subscription box available for purchase.
Close
Trifecta Nutrition is an organic meal delivery service that offers much more than professionally cooked meals you can enjoy as often as you please. Its goal is to help you on your path to health by offering you an easy way to switch to the faster lane, without any bumps or obstacles to hinder your progress. Its vegan meal plan allows you to feel full and satisfied all day long and enjoy the benefits of a healthy, balanced diet without any effort. Find out more about its offer in this in-depth Trifecta Nutrition review.
How Trifecta Nutrition Works
For its hungry vegan customers, Trifecta Nutrition has designed a special vegan plan that allows you to have a 100% vegan, chef-prepared meal on your table at any time of the day, all week long. You can decide on the number of days per week and the number of meals per day you want to receive and state whether you want to have one Trifecta Nutrition breakfast every day.
The deliveries are normally made weekly and they are automatically scheduled, but your subscription is commitment-free, meaning there is no minimum subscription length. You can skip or cancel whenever you wish. You can also ask Trifecta Nutrition to deliver your boxes biweekly, triweekly, once a month or as often or rare as you please. Just send an email with your request and Trifecta Nutrition will adjust your delivery schedule in accordance with your desires.

If you prefer designing your meals yourself, you can also order a la carte. This option allows you to order vegetables, fruit, and carbohydrates individually and combine them into meals that perfectly suit your desires and needs. All items are prepared by a professional chef, which allows you to put a wonderful dish together in a matter of minutes.
In case you find yourself craving more information on how Trifecta Nutrition works and what it can do for you, do not hesitate to contact its friendly staff. You can get in touch with them via email or live chat and get quick answers to any question. You can also take a look at the extensive FAQ section and get great answers to all of the most common questions.
What Makes Trifecta Nutrition Different
Trifecta offers perfectly cooked vegan meals created by a team of culinary and nutrition experts, made out of fresh ingredients of unsurpassed quality. The delicious food you receive in your subscription box is always 100% USDA organic, non-GMO, gluten-free, dairy-free, soy-free, low in calories, and high in nutrients. Thanks to the input from various nutrition professionals, all meals are perfectly balanced and just what your body needs.
While many meal delivery services only offer dinner items, the Trifecta team knows that a healthy diet takes more than that, which is why this company offers breakfasts, lunches, and dinners, so you can have something healthy, tasty, and beautifully prepared to eat throughout the day. We also like the fact that you can buy pre-cooked, lightly seasoned ingredients that you can use for your meals, which is not an option many companies offer.         
What You Get
As we have said before in this Trifecta Nutrition review, what you get depends on the choice you make regarding your subscription. The Trifecta vegan meal plan allows you to choose between 2, 3, and 4 meals per day, 5 or 7 days per week. You can decide whether you want one of the daily meals to be a breakfast or you only want to receive lunch and dinner items.

With a la carte ordering, the sky is the limit. First of all, it allows you to save money on your meals. You can create meals out of professionally prepared veggies, fruit, and carbs that cost only $4-$7 in comparison to the meals in the vegan plan that average around $10-$11. Apart from the possibility to enjoy more affordable meals, the a la carte option lets you create unique meals. Therefore, what you get is full freedom to turn delicious Trifecta food into whatever you want it to be.
Gift Options
As far as gifts are concerned, Trifecta only offers gift cards. The amounts available are $25, $50, and $100. While a gift card is a good instant gift solution for any occasion, we are a bit underwhelmed by the absence of more creative gift ideas.
Pricing
The price of your weekly delivery of vegan meals depends on the number of meals you choose to have delivered. The price of 2 meals per day, 5 days a week is $113.90 with breakfast and $115.90 without breakfast. If you want to receive 2 meals per day for 7 days per week, the total price is $159.46 with breakfast or $162.26 without breakfast. Three meals, 5 days a week cost $161.85 or $164.85 if you do not want to receive a breakfast per day while 3 meals, 7 days per week cost $226.59 or $230.79 without breakfast. Four meals per day, 5 days a week cost $205.80 or $209.80 without breakfast and 4 meals per day, 7 days a week cost $288.12 or $293.72 without breakfast.
All a la carte items have individual prices. For carbohydrates, the prices range from $6.99 to $8.99 per 1 lb. The prices of vegetables range from $12.99 to $25.99 for 2 lbs. The prices of fruit range from $10.99 to $13.99 per 1 lb.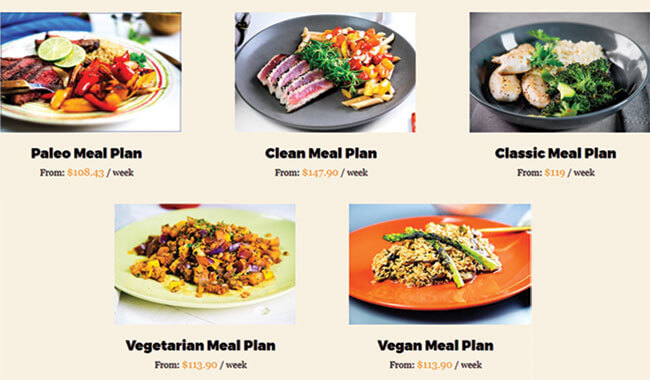 Price: $113.90
Shipping cost: free
Ships from: United States
Ships to: United States
Delivery
Trifecta delivers all across the US, including Hawaii and Alaska. In an effort to make its meals even more affordable, Trifecta offers free shipping on all orders. However, this is the reason why it has a minimum order of $119 for a la carte purchases.
Pros
Fresh, 100% organic ingredients
Professionally cooked, balanced meals
Excellent vegan meal plan
A la carte ordering option
Flexible subscription
Delivery nationwide
Cons
No vegan proteins in its a la carte offer
Does not offer any gifts except for gift cards
Bottom Line
Trifecta Nutrition truly goes the extra mile to satisfy the desires and needs of its customers. Perfect, farm-fresh ingredients guarantee that your meals are nutrient-packed and incredibly healthy. Nutrition experts are there to make sure that every meal is optimally balanced while the culinary team manages to turn the gorgeous ingredients into a real masterpiece every single time. The vegan plan is in complete accordance with the rules of the vegan diet and boasts wonderful variety. The subscription is incredibly flexible, allowing you to mold it any way you wish, so it completely suits your desires and lifestyle. The prices are reasonable and shipping is always free, so there are no additional costs. If you haven't got a lot of time on your hands but want to have a healthy, balanced diet to fuel your body, Trifecta's vegan meal subscription boxes may just be the perfect solution for you.