The Ultimate Tea-Drinking Experience
Teabox Review - UPDATED Nov 2023
Advertiser Disclosure
Top10SubscriptionBoxes.com is an independent website supported by referral fees of certain sites ranked on this site. Our site receives compensation from some of the subscription box sites whose products we present here. Compensation we receive impacts the ranking of the products. Other factors such as quality of the products, our own opinions etc. may impact the ranking as well. Top10SubscriptionBoxes cannot and does not present information about every subscription box available for purchase.
Close
Teabox has been offering the finest, freshest, soul-warming teas from India and Nepal since 2012. Its selection includes hundreds of teas for different tastes, originating from various regions of India famous for premium-quality tea. It also offers gorgeous teaware and gifts for a variety of occasions. Learn more about its subscription boxes and other aspects of its offer in this honest Teabox review.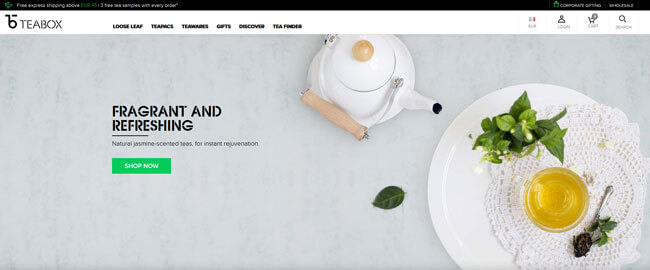 How Teabox Works
Teabox allows you to browse and shop commitment-free, just like in any other store. You can pick the teas you like, pop them into the cart, and proceed to checkout. You can buy teas individually, opt for teapacks, and also purchase teaware and further enhance your tea-drinking experience. If you need help finding the teas you would really like, you can take a quick quiz and Teabox will offer you a list of the teas from its selection that best suit your preferences.
If you want to receive teas every month, you can opt for one of its 3 subscriptions. The subscriptions differ in the amount of tea you receive in your box and you can subscribe for a month, 3 months, 6 months or a whole year. The selection of teas that end up in your box is once again based on your preferences. You take a short test and let Teabox know how often you drink tea and you pick your favorite flavors and tea varieties. Teabox then suggests the best subscription for you and the teas that would please your palate. Learn more about its subscriptions in the What You Get section of this Teabox review.
If you need any help, you can stop by the Help Desk section and check out the answers to the most common customer questions. You can also get in touch with the staff by filling out the contact form in the Contact Us section of Customer Service or via live chat.
What Makes Teabox Different
Teabox offers you the chance to order teas any way you wish. You can purchase individual tea packs from its Loose Leaf selection, opt for teapacks featuring teas from different regions or go with a subscription. Every time you order teas individually, you get 3 free samples (does not apply to orders only including teapacks and subscriptions).

It also allows you to order teaware and enjoy your tea even more. You can purchase tea makers, tea sets, tea infusers, tea storage, tea tools, and tea décor, as well as other essentials. If your journey into the world of tea is just starting, you can also opt for a starter kit.
You can introduce your tea-loving friends to Teabox with its excellent referral program. You can give your friends $25 to spend at Teabox and get $25 credit for yourself when your friends join.
What You Get
If you opt for a subscription, you get a set amount of teas that perfectly suit your taste every month. The subscriptions at your disposal are Tea Lover, Tea Avid, and Tea Enthusiast. The Tea Lover plan brings you 2.8 oz. of tea every month, enough for 12-15 cups. With the Tea Avid plan, you get 5.3 oz. every month for 30-40 cups of your favorite tea. The Tea Enthusiast plan brings you 10.5 oz. each month, enough to make 120-150 cups. You can cancel your order or subscription at any time, as long as the tea has not already been dispatched from the Teabox center.
When ordering teas individually, you can choose from Loose Leaf packs and Teapacs. Teapacs include packages of tea from a single estate, flavored blends, and sample packs, which allow you to try out something new for only $10 and discover your new favorites.

Loose Leaf packs normally bring you a single type of tea and sample packs and you can choose from a variety of options. When it comes to tea types, you can order black, green, white, oolong or chai tea or tea blends. You can browse teas by region, including Darjeeling, Assam, Nepal, Nilgiris, North-East India, and Kangra. The flavors available are cinnamon, ginger, fennel, cardamom, jasmine, and rose. Finally, you can browse its collections, including organic, breakfast, flavored teas, festive teas, Earl Grey teas, and the latest seasonal collection. You can also check out the Teabox selection of iced teas, take a look at the best-selling items and new arrivals, see which items are on sale, and check out the sample packs.
Gift Options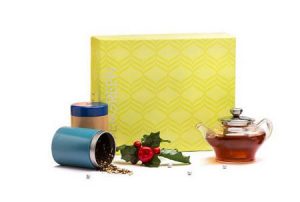 Teabox offers gorgeous tea gifts for various occasions. You can choose from tea and teaware gifts and gifts for him or her. You can browse by price range and check out gifts under $20, under $40, under $60 or above $60. Finally, depending on the occasion, you can choose from Festive Gifts, All-Time Favorites, and Signature Gifts. There are over 30 different gifts at your disposal, so there is a great chance you can find just what you need. The prices of gifts range from $6 to $99.
Pricing
The individual tea packs (40 cups) and tea collections normally cost between $5.99 and as much as $400, which is the price of Black Tea Collection including 124 items. The prices of teapacs range from $10 to $22.98. Teabox teaware and tea accessories can cost anywhere from $3.99, which is the price of Finum Paper Tea Filters, to $220.99, the price of Ash Gray Set. Keep in mind that Teabox offers regular discounts that allow you to save more than $100 on your purchases.
Now, let us take a look at the prices of subscriptions. The Tea Lover plan costs $19.99 with the one-month subscription, $55.99 for 3 months ($18.66 per month), $109.99 for six months ($ 18.33/month), and $199.99 for a year ($16.67 per month). The Tea Avid plan costs $29.99 with the one-month subscription, $84.99 with the 3-month subscription ($28.33 per month), $159.99 for 6 months ($26.66 per month), and $299.99 for a whole year ($25 per month).  Finally, the Tea Enthusiast plan comes at the price of $39.99 for one month, $109.99 for 3 months ($36.66 per month), $209.99 for six months ($35 per month), and $399.99 for 12 months ($33.33 per month).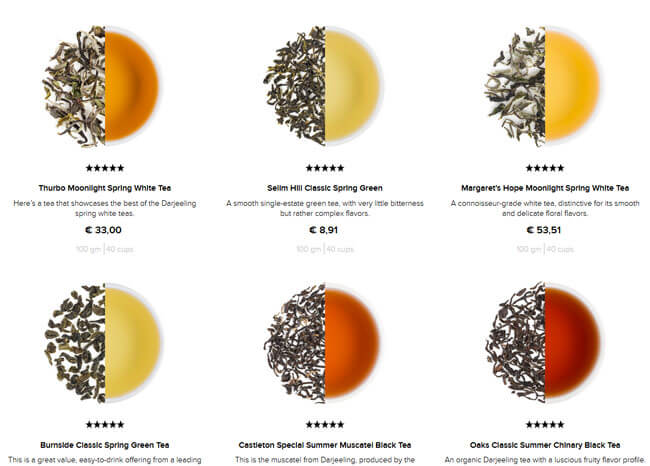 Price: $19.99
Shipping cost: free in US
Ships from: United States
Ships to: Canada, United Kingdom, United States
Delivery
Teabox ships all over the US and also delivers its teas to numerous countries across the world. Orders received by noon IST (Indian Standard Time) on business days are shipped the same day. For orders shipped to US addresses, it usually takes 4-6 days for the tea to arrive. For orders under $30, the shipping costs amount to $10, for orders between $30 and $50, the shipping costs are $5, and for orders over $50 and subscription boxes, shipping is always free. For international shipping costs, check out the Shipping & Delivery section of Customer Service.
Pros
A vast selection of high-quality, fresh teas from India and Nepal
Excellent personalized subscription plans
Beautiful teaware
Great gifts for tea lovers
Free shipping for subscriptions and orders over $50
Worldwide shipping
Bottom Line
Teabox is a veritable tea-lover heaven. It allows you to order as much tea as you want, helps you choose the right kind, offers exquisite teaware, and gives you the chance to subscribe and have teas that perfectly suit your taste delivered to your home every month. It also offers delightful tea gifts. Shipping is free with any subscription plan and for all orders over $50. Thanks to the regular discounts, you can enjoy the best teas at the best price.