A LUSCIOUS SURPRISE FOR YOUR PALATE
Sweets GiftBox Review - UPDATED Mar 2019
About Sweets GiftBox
Sweets GiftBox brings you the most decadent and delectable artisan treats packed in a lovely box and delivered straight to your doorstep. The content of each box you receive is a sweet, sweet surprise, with a new, exciting theme every month.


Every candy subscription box you get is filled with crunchy, chewy, fluffy, sweet-and-salty, and chocolaty treats. The items in the boxes are carefully picked and quite often, they are extremely hard to come by, so you may not have even heard of them before. That is why every box allows you to delve deeper into the wonderful world of sweets and discover something new and delicious every time.
You get 4-5 yummy, top-quality treats per box at a rather low price and you can save more money on your boxes thanks to the excellent rewards program. When you sign up, renew your subscription, review a product or upload a photo, you get points that can be exchanged for new boxes. You also get $10 every time you successfully refer a friend.
Sweets GiftBox is extremely flexible and allows you to skip, cancel or even switch between subscriptions whenever you want. The boxes are shipped by the 15th of each month and shipping is free of charge.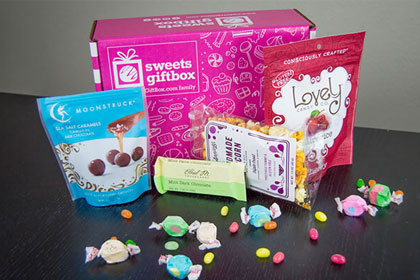 Pricing and Shipping
Price: $25.00
Shipping cost: free
Ships from: United States
Ships to: United States