Handcrafted Organic Teas For Your Sipping Pleasure
Plum Deluxe Review - UPDATED Sep 2023
Advertiser Disclosure
Top10SubscriptionBoxes.com is an independent website supported by referral fees of certain sites ranked on this site. Our site receives compensation from some of the subscription box sites whose products we present here. Compensation we receive impacts the ranking of the products. Other factors such as quality of the products, our own opinions etc. may impact the ranking as well. Top10SubscriptionBoxes cannot and does not present information about every subscription box available for purchase.
Close
Oregon-based Plum Deluxe is a tea subscription service that offers high-quality, fresh, organic, and fair-trade loose-leaf tea. Whether you are a tea aficionado or just a casual tea lover, Plum Deluxe's offer is sure to impress you with its vast selection of teas, accessories, sweets, and gift options.
When you order from Plum Deluxe, its small team of dedicated tea connoisseurs carefully handpicks the ingredients, gently blends them to perfection, and gets premium teas to you as fresh as possible. In our Plum Deluxe review, you can learn more about the company's teas and subscription boxes, prices, delivery areas, and much more.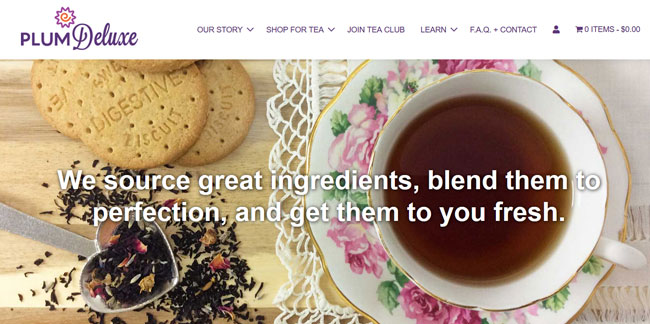 How Plum Deluxe Works
With Plum Deluxe, you have the freedom to shop any way that works for you. You can browse the company's rich offer featuring more than 100 delicious teas and tea-related products and place a one-time order whenever you wish to restock your tea supplies. Alternatively, you can get a subscription and receive regular deliveries of premium and exclusive teas that you cannot find at just any tea shop.
Should you choose to subscribe, you have 2 basic options at your disposal, including One Tea Per Month or Two Teas Per Month. These monthly subscription boxes do not only include 1 or 2 exquisite teas handpicked by the Plum Deluxe team but also bring you a surprise tea sample, brewing instructions, tea pairings, and recipes. In other words, they contain everything you need to perfect the art of tea brewing, enjoy every sip, and take your tea drinking experience to the next level.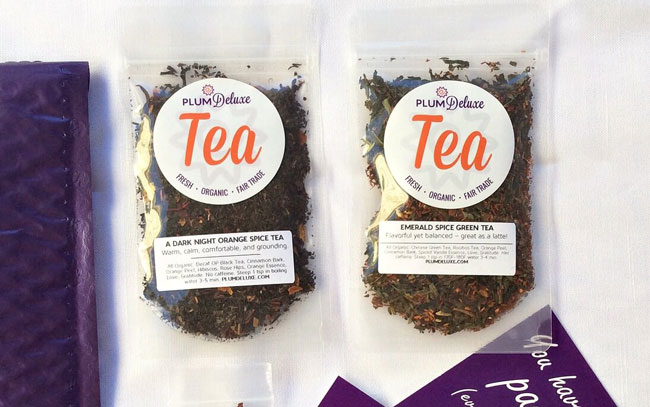 Apart from the 2 standard club subscriptions, you can choose from 3 additional options. For patrons who drink tea less often, the company has designed the half-ounce subscription box that brings you 0.5 ounces of tea every month instead of 1-2 ounces. For those who like custom subscriptions, there is the ReSteep subscription, which allows you to enjoy auto-delivery of your favorite tea plus extras. Finally, there is the company's quarterly Plum Box that includes curated, hard-to-come-by goods for true tea lovers. This delightful box brings you Plum Deluxe products that are not yet available in the company's online shop and it includes a couple of gorgeous artisanal items as well.
If you want to get the perfect gift for a fellow tea lover, Plum Deluxe has got you covered there as well. For a gift that keeps on giving, you can choose 1 out of 9 gift subscription options and treat someone to 3-12 months of tea perfection. If a gift subscription does not suit your needs, you can gift everything from individual teas to gift sets and teaware.
It is important to know that Plum Deluxe subscriptions are charged quarterly and automatically renewed until you cancel. You can pause or cancel your subscription at any time, directly through your Plum Deluxe account.
What Makes Plum Deluxe Different
Plum Deluxe is committed to sourcing, blending, and distributing the finest teas available on the market. Its offer includes loose-leaf, organic teas of numerous varieties. Its artisanal and handcrafted tea blends are non-GMO, organic, free-trade, vegan, and free of gluten, hidden sugars, chemicals, and sulfates.

However, what makes Plum Deluxe unique is not only the quality of its teas or the overwhelming abundance of flavors it allows you to explore but the amount of love poured into every blend and every box delivered. Not every tea subscription service invests such great efforts into handpicking each tea and extra item in its boxes with the goal of putting a smile on your face with every delivery.
As a community-centric tea company, Plum Deluxe sends a carefully designed weekly newsletter named The Blend to its subscribers so they could learn more about the latest news and trends in the industry.
What You Get
Like suggested earlier in our Plum Deluxe review, you have a whole range of options at your disposal. You can choose between individual tea products, standard and custom subscriptions, and gifts. We will now show you what you get to enjoy depending on the option you pick.
Individual Tea Products
If you opt for a one-time purchase, you can freely explore the Plum Deluxe online store divided into more than half a dozen tea categories. You can browse tea by type and opt for iced tea, caffeine-free herbal tea, chai, black tea, green tea, oolong tea, white tea, and puerh teas.
If you have particular flavor preferences, you can narrow your choice down to Great Iced or Great With Milk, as well as fruity, sweet, floral, spicy, nutty, tart, and even savory teas.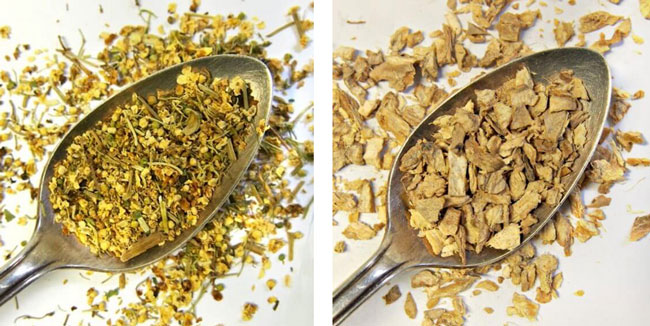 Finally, in case you want something truly special, you can browse the Limited Edition section. In case you want to save some cash, you can check out the teas currently on sale. For an extra touch of elegance, you can get some of the lovely Plum Deluxe tea accessories or teaware, including tea infusers, matcha whisks, teaspoons and scoops, filter bags, and cold-brewed tea starter kits.
Last but not least, Plum Deluxe boasts a delightful selection of sweets that go perfectly with virtually all tea types. For example, you can get raw honey drop candy, maple dust, honey dust, honey sticks, and rock sugar for tea.
The One Tea Per Month Subscription
Should you go with the One Tea Per Month subscription, you can expect your monthly delivery to include 1 ounce of premium, seasonal tea made exclusively for the club (sufficient for 15 to 20 cups), 1 sample of another delicious tea, tea pairings, recipes, and useful brewing instructions. You cannot customize your box but you can choose between the caffeine and caffeine-free versions.
The Two Teas Per Month Subscription
With Two Teas per Month, you get 1 ounce of premium, exclusive seasonal tea and 1 ounce of surprise blend, each yielding 15 to 20 cups. The extras included in the box include a special tea sample, tea pairings, recipes, and brewing instructions. Like with the previous option, you can tell Plum Deluxe to make your box caffeine-free.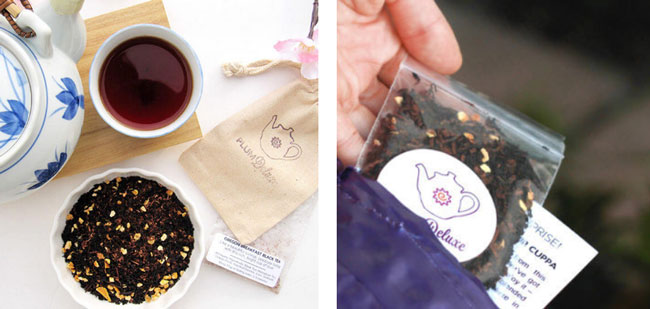 The Half-Ounce Subscription
With the Half-Ounce subscription, you get to enjoy all the perks available with the previous 2 subscriptions, including free shipping and extras like samples, tea pairings, recipes, and brewing tips. The only difference is that this subscription brings you 0.5 ounces of tea per month, which is enough for 7-10 delicious cups.
The Quarterly Plum Box
The Quarterly Plum Box brings you a themed collection of teas and tea accessories every 3 months. While every Plum Box delivery is unique, they all include 2 different loose-leaf tea blends, 1 ounce each, 1 tea accessory like an infuser or a tea towel, and a couple of theme-related extras, like body care products, mindfulness items, kitchen tools or stationery. This box is also giftable.
ReSteep
If you are not a big fan of surprises, the ReSteep subscription was made for you. With ReSteep, you can choose your favorite tea and have it automatically delivered to your kitchen every month. Along with 1 ounce of your preferred tea, your box includes 1 ounce of premium tea available to members only, 1 tea sample, recipes, brewing tips, and tea pairings. Plus, you get to enjoy a 5% discount on every order as a thank-you for being a recurring customer.
Gift Options
In the previous sections of this Plum Deluxe review, we mentioned that everything you get from this service is of exceptional quality and designed with care. Therefore, we believe that any item in the company's shop could make an excellent gift. However, if you do not have the time to browse the entire Plum Deluxe selection or simply prefer pre-made gifts, you can choose from 2 convenient solutions – gift subscriptions and gift sets.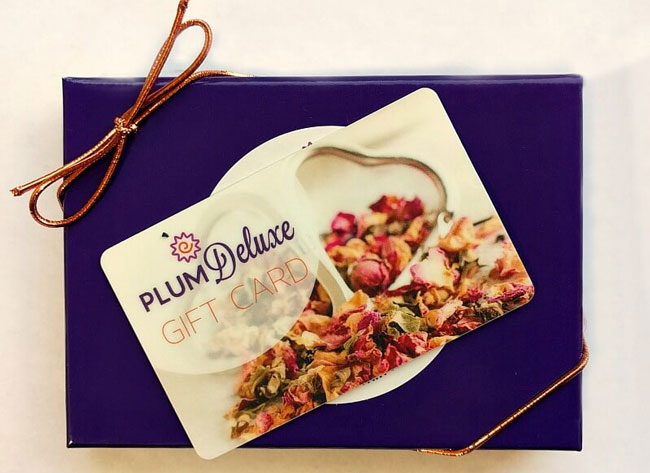 Gift Subscriptions
With gift subscriptions, you can choose from 4 different subscription periods: 3 months, 6 months, 9 months, and 12 months. Gift boxes are delivered monthly and they can include 1 or 2 loose-leaf teas or tea blends. Regardless of the option you choose, you can add a personalized note, select the date of the first shipment, and decide whether you wish the giftee to be notified immediately or want your gift to be a surprise. Furthermore, you can set the caffeine preference and your friend can change it later if needed.
Gift Sets
Plum Deluxe tea gift sets are also known as Care Packages because of all the thought and care that goes into the creation of each box. There are about half a dozen options to choose from, some of which include the Loose Leaf Sampler gift set (3 teas, 1 spoon, 1 muslin bag, and 1 gift card), the Gift Of Gratitude & Encouragement set (1 ounce of tea, 2 surprise tea samples, and a custom handwritten note), and the Loose Leaf Tea Lover's Starter Kit (2 one-ounce tea packets of your choice, 4 ounces of tea sugar, 20 honey sticks, 1 heart tea infuser, and 1 pewter tea scoop).
Pricing
At Plum Deluxe, the price you pay per 1 ounce of tea depends on the tea you pick and the ordering method you choose. If you decide to order commitment-free, you can get individual teas at prices ranging from $3 to $7 per ounce.
If you choose to subscribe, you can get:
The Half-Ounce subscription for $7.50 per month;
The One Tea Per Month subscription for $10.00 per month;
The Two Teas Per Month subscription for $16.00 per month;
The quarterly Plum Box subscription for $46.00 – $49.00 per month;
The ReSteep subscription for $9.50+ per month.
With gift subscriptions, you can send a tea lover:
1 tea per month for 3 months for $35.00;
1 tea per month for 6 months for $60.00;
1 tea per month for 9 months for $90.00;
1 tea per month for 12 months for $120.00;
2 teas per month for 3 months for $53.00;
2 teas per month for 6 months for $96.00;
2 teas per month for 9 months for $144.00;
2 teas per month for 12 months for $192.00;
Gift sets start at just $8, tea accessories cost $4+, and sweets start at $4.
Subscriptions allow you to enjoy free shipping on all orders along with members-only specials and discounts.
Price: $7.50
Shipping cost: FREE
Ships from: United States
Ships to: Canada, United Kingdom, United States
Delivery
At the moment, Plum Deluxe delivers throughout the United States, as well as Canada, the United Kingdom, and Australia. All orders are delivered via USPS First Class Mail. After you place your order, you can expect your box to be shipped either the same day or within 1-2 business days. Teas are usually mailed by the 8th of each month. It takes between three and seven days for the product to reach you, depending on how far you are from the service's headquarters in Oregon.
Pros & Cons
Pros
Superbly crafted subscription plans for various profiles of tea lovers
Huge selection of top quality fresh and organic teas
Amazing gifts for tea lovers
Free shipping with subscriptions
Ships to the US, Australia, the UK, and Canada
Cons
Boxes are not designed in accordance with the user's taste profile
No refunds or exchanges
Bottom Line
Plum Deluxe is a tea subscription service that strives to ensure ultimate customer satisfaction. It lets you choose between subscriptions and subscription-free ordering, it offers a range of carefully tailored subscription plans, and it provides an impressive variety of tea lover gifts. Its tea selection is truly outstanding and the same goes for its collection of tea accessories and teaware. We honestly believe that whatever your tea-sipping preferences may be, you can find what you need at this charming tea shop.
The only 2 flaws of this service are its refund policy and curation methods. Namely, the service does not offer refunds, which is a bit underwhelming. Furthermore, its boxes are not curated in accordance with each user's individual taste. Still, it does allow you to create a custom subscription of your own and its teas are always of the highest quality, so they are never a waste of money. All in all, we warmly recommend giving it a try and personally experiencing the soul-warming qualities of its premium teas crafted with love.