Have A Boxful Of Yummy Vegan Snacks
NatureBox Review - UPDATED Mar 2019
Breakfast may be the most important meal of the day, but snacks are what makes life sweet, spicy, and everything nice in between. NatureBox boasts a wonderful assortment of crunchy, tasty, good-for-you snacks, including dozens upon dozens of vegan-friendly items. You no longer have to feel guilty for munching on something delicious between meals. With NatureBox subscription boxes, you can always have a bunch of healthy, completely vegan alternatives to your favorite guilty pleasures and enjoy great taste while staying fit. Read this NatureBox review and find out how this company can help you have your snack and eat it too.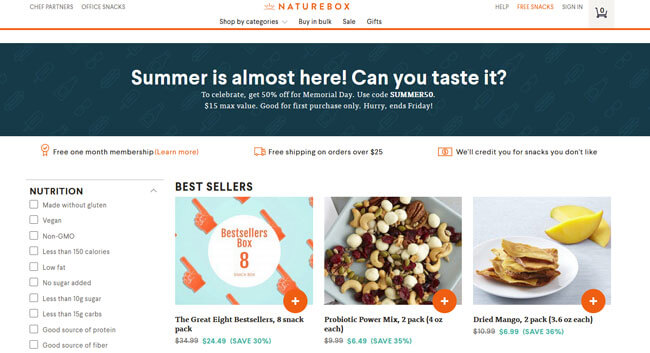 How NatureBox Works
NatureBox lets you enjoy a great shopping experience while helping you save a lot of money thanks to its membership program. As a first-time shopper, you can browse through its offer, pick anything you like, and proceed to the checkout, just like in any other store. Once at the checkout, you are prompted to create an account and enjoy the perks of becoming a part of this members-only club.
As a member, you can shop as often as you like and buy as many lovely treats as you want. Unfortunately, the membership does not come free of charge, but the price is far from outrageous. It is only $5 per month (the first month is free) and these $5 go to your credit for the next purchase. If you do not use your credit by the end of the month, it still won't go to waste, as it rolls over and can be used for your next purchase. Therefore, you lose nothing, as the money you invest in your membership comes back in the form of delicious snacks. On top of that, you get to enjoy member discounts. You get up to 40% off on all snacks in the offer.
Apart from shopping for yourself, you can set up an account for your entire office and get an unlimited supply of snacks for a fixed price. The unlimited office plans start at $12 per employee (30 cents per day). All office deliveries come with free shipping and the possibility to choose from up to 50 snacks every month.
If you are having any troubles or need help managing your subscription, you can stop by the FAQ section or contact the support staff. Customer support is available via email, as well as live chat.
What Makes NatureBox Different
First of all, NatureBox has one of the widest selections of vegan snacks we have encountered so far. It is wonderfully convenient and brings amazingly healthy and tasty treats right to your doorstep. It also lets you enjoy great discounts that make shopping at this online store even more enjoyable.


NatureBox cares deeply about keeping you happy, which is why it credits you for every snack in your box that does not suit your taste. All you need to do is notify the staff within 90 days and you can get credit equal to the purchase price of the snack you did not enjoy, so you can replace it with one of your favorites and your money does not go to waste.
If you want to get your hands on some free snacks, the easiest way to do so is by referring a friend. Every time you successfully refer someone, both you and your friend get $20 credit you can spend on the NatureBox snacks you love.
What You Get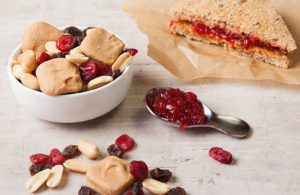 With NatureBox, it is incredibly easy to get exactly what you need. Its rich catalog is filled with over a hundred of wonderful treats you can filter by a number of options so you can quickly find what you are looking for.
The Nutrition filter allows you to narrow your selection down to vegan items in an instant. It also lets you limit your choice to the treats that are non-GMO, low-fat, low-sodium, sugar-free, good source of protein or fiber, made without gluten, contain less than 150 calories, less than 10g sugar or less than 15g carbs.
You can also filter by taste. NatureBox offers sweet, savory, and spicy snacks. Another option is browsing by categories, which include Best Sellers, New, Nuts, Breakfast & Bars, Cookies, Chips, Pretzels, Popcorn, Dried Fruit, Fruit Chews, Jerky, and Delicious Discoveries.
If you want to save more money, you can check out the items on sale or buy in bulk. This way, you can load up on your favorite vegan snacks at the best price and never run out of something great to munch on.
Gift Options
Unfortunately, NatureBox does not offer any 100% vegan gift boxes. However, it does offer pretty nice gifts for your vegetarian, flexitarian, and omnivorous friends. You can choose between a 6-snack box ($29.95 or $22.95 with membership), a 12-snack box ($48.95, $38.95 for members), and a 20-snack box ($74.95, $59.95 with membership).
Pricing
The prices of vegan snacks at NatureBox vary a lot and the prices depend both on the quantity and the quality of the items. Generally, the prices range from $1.99 (the price of 1.6 oz. of Spicy Sriracha Popcorn) to $59.99 (the price of 5 lb. Big Island Pineapple or 5 lb. of Mixed Nuts). When it comes to bulk purchases, the priciest items are 5 lb. packs of Salt & Pepper Pistachios, Blueberry Almond Quinoa Bites, and Jalapeno Cashews, which cost $64.99 each. The most affordable items are 8 oz. packs of Roasted Salt Pistachios, Mixed Nuts, Raw Walnuts, and Sweet & Simple Berry Nut Medley, at the price of $5.99 per pack.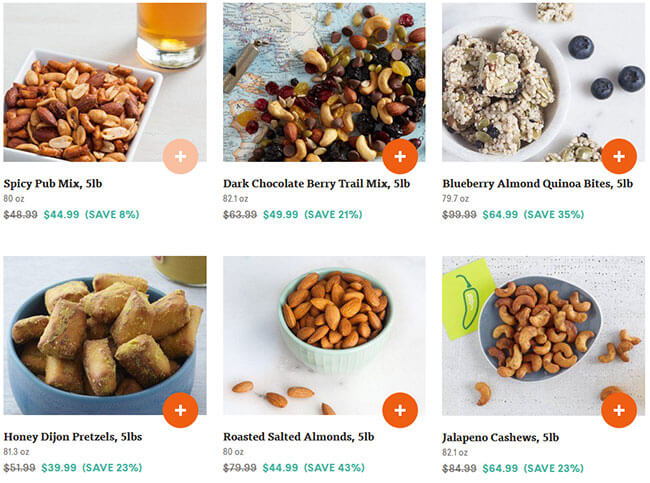 Price: $74.99
Shipping cost: free over $25
Ships from: United States
Ships to: Canada, United States
Delivery
NatureBox delivers all over the US, including Hawaii and Alaska. It also sends its tasty snacks to Canada, the US territories, and military addresses. Within the continental US, the shipping is free of charge for all orders of $25 or more. For orders below that amount and all shipments made to Hawaii, Alaska, Canada, the US territories, and military addresses, shipping costs $4.95.
Pros
High-quality, natural, healthy treats
A vast selection of vegan snacks
Great membership perks
Wide shipping coverage
Excellent office plans
Referral program
Cons
Only offers free shipping on $25+ orders within the continental US
No vegan gift boxes
A bit pricey
Bottom Line
NatureBox lets you have the best of both worlds – it allows you to enjoy heavenly snacks without any negative effects on your waistline. Its selection of vegan treats is truly impressive and everything in the offer seems wonderfully delicious. Even if you do not like all the items in your box, you can get credit for the items you weren't satisfied with and use it for your next purchase. The membership discounts are another great plus, along with the free snacks you get with the referral program and free delivery for orders over $25. We also like the unlimited plans for offices, because, obviously, there aren't many words in our language that sound better than all-you-can-eat snacks.