Awesome Crates For Anime Lovers
Loot Crate Review - UPDATED Nov 2023
Advertiser Disclosure
Top10SubscriptionBoxes.com is an independent website supported by referral fees of certain sites ranked on this site. Our site receives compensation from some of the subscription box sites whose products we present here. Compensation we receive impacts the ranking of the products. Other factors such as quality of the products, our own opinions etc. may impact the ranking as well. Top10SubscriptionBoxes cannot and does not present information about every subscription box available for purchase.
Close
If you are an anime fan, you are probably aware of the ugly truth that if you want to get a gift you would truly love, you have to get it yourself. Loot Crate is one of the coolest places on the web for finding treats for your inner geek. It offers amazing subscription boxes featuring geeky pet gear, awesome apparel, gaming collectibles and gear, anime goodies, and more. In this Loot Crate review, we'll focus on our favorite part of its offer – Loot Anime.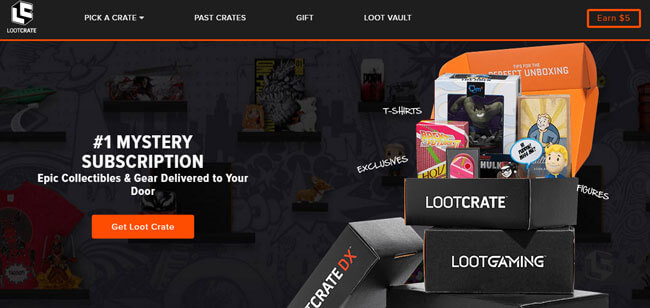 How Loot Crate Works
In order to receive Loot Crate anime goodies, you need to join the Looter community by creating an account and choosing the subscription that best works for you. You can choose between the monthly, 3-month, 6-month, and 12-month subscriptions. The longer the subscription period, the more you save on you crates. You can cancel your subscription or skip a month whenever you wish.
Every month, Loot Crate designs a new anime subscription box filled with valuable collectibles, accessories, apparel, and other items from the best anime and manga series. The crates are sent out by the end of each month and if you sign up no later than the 26th of the current month, you receive the crate that is currently available. If you sign up later during the month, your first crate is the one planned for the following month.
If you want to purchase any additional items, you can do so by picking your favorites from the previous crates out of the Loot Vault. This is the place where all the remaining, exclusive items included in the previous subscription boxes are available for individual purchase. New items are added every week, so if you want to get your hands on some great manga collectibles you've missed, stop by the Loot Vault regularly and get the limited-edition items you want before anyone else snags them.
Loot Crate has extensive FAQ sections for every type of subscription box in its offer, so if you want to find out all the details about the boxes and your subscription, be sure to give Loot Anime FAQ section a look. You can also submit a ticket and get a comprehensive response to your question from the Loot Crate staff.
What Makes Loot Crate Different
Loot Crate offers some of the best manga and anime collectibles available. It also offers you plenty of ways to save money on your purchases. If you are a Crunchyroll subscriber, you can link your Crunchyroll subscription to your Loot Crate account and get between $5 and $40 off your order, depending on the length of your Loot Crate subscription. You can also save some cash by referring a friend. For every successful referral, you get a $5 credit. Another way to get more for less money is by taking advantage of its regular discounts.
You can also get Loot Pins in your crate. The pins bring you bonus digital loot you can pick up by logging into your account and checking out the pick-up info. The bonus loot is different every month and exciting every time. Once per month, one lucky Looter also gets the Kaiju crate that is worth more than $1500.
What You Get
Every month's Loot Crate anime box contains the best, licensed, limited-edition items from the manga and anime world. The theme of the box changes monthly. Normally, you get between 4 and 6 items from the top anime and manga series in your monthly crate. As we have mentioned previously in this Loot Crate review, the items include figures, accessories, manga, apparel, home goods, and more. The retail value of the items is always over $60 while you pay only a fraction of the price.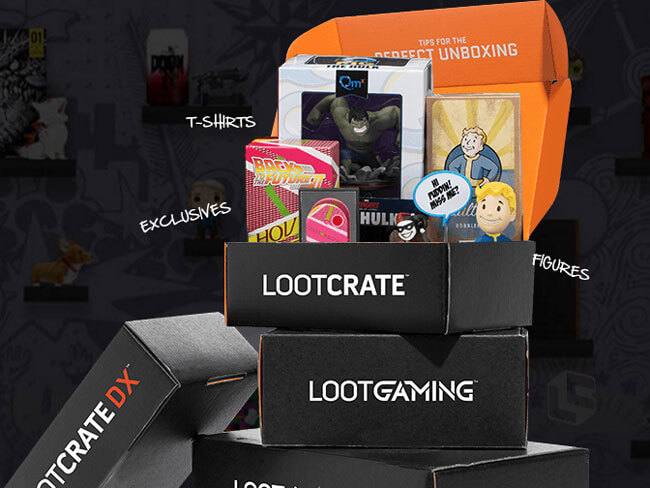 Gift Options      
Whatever goodies you are getting for yourself, you can also give as a present to the anime fans in your life. Just as in the case of your subscription, there are 4 options at your disposal. You can opt for the 1 Crate Gift Plan, 3 Crate Gift Plan with 1 crate sent each month for 3 months, 6 Crate Gift Plan with 1 crate sent monthly for 6 months or 12 Crate Gift Plan, which brings your friend one crate each month for a whole year.
Check out the prices of these cool anime gifts in the following section of this Loot Crate review. If you want to spend less on a gift, keep in mind that the items from the Loot Vault make for pretty awesome gifts as well.

Pricing
The price of your monthly subscription box depends on the subscription period you choose. With the monthly plan, the price is $26.95, with the 3-month plan, it is $25.95 per month, and with the 6-month subscription, the price is $24.45. The most affordable 12-month subscription is $23.95 and it also brings you a free bonus t-shirt. The shipping costs are not included in the price and they amount to $6 per month for US shipments. The price of shipping may vary for international deliveries.
The prices of anime gift crates are $36.95 for 1-crate gifts, $97.85 for 3-crate gifts, $181.70 for 6-crate gifts, and $352.40 for 12-crate gifts. Shipping and handling costs are included in the price.

The items in the Loot Vault all have individual prices and the price range varies depending on the selection of the items available. Some of the most affordable items cost only $4.95 while the priciest items may cost $80 or more. For shipments within the US, shipping for Loot Vault items costs $3 for orders of less than $25 and it is free for orders of $25 or more. For full information on international shipping costs, check out the How It Works section of Loot Vault.
Price: $26.95
Shipping cost: $6.00
Ships from: United States
Ships to: Worldwide
Delivery              
Loot Crate ships its crates all over the US, including Puerto Rico and Guam. It also offers international shipping. Other countries where Loot Crate boxes are available include Argentina, Australia, Austria, Belgium, Canada, Chile, Colombia, Czech Republic, Denmark, France, Finland, Germany, Hungary, Iceland, Italy, Ireland, Israel, Japan, Luxembourg, Mexico, the Netherlands, New Zealand, Norway, Poland, Portugal, Singapore, South Africa, South Korea, Spain, Sweden, Switzerland, Turkey, and the UK.
The estimated delivery date is between the 28th of the current month and the 10th of the following month. International shipments normally arrive 12-14 business days after they are sent out.
Pros
Exclusive manga and anime gear
Different theme every month
Various discounts and bonuses
Loot Vault for individual purchases
Boxes available all across the US and internationally
Cons
No free shipping for subscription boxes
No live chat
Bottom Line
Loot Crate lets you have something amazing to look forward to every month with its great anime subscription boxes. The crates include different, exclusive gear from your favorite series every time. You can also get various bonuses with Loot Pins and the coveted Kaiju crate. The Loot Vault offers you the chance to purchase all the awesome items you have missed individually. Unfortunately, Loot Crate does not offer free shipping on the boxes, but the prices are reasonable enough and there are numerous discounts that can help you save a lot of cash.