Vet-Made Solution For Your Dog's Wellness
VetPet Box Review - UPDATED Sep 2023
Advertiser Disclosure
Top10SubscriptionBoxes.com is an independent website supported by referral fees of certain sites ranked on this site. Our site receives compensation from some of the subscription box sites whose products we present here. Compensation we receive impacts the ranking of the products. Other factors such as quality of the products, our own opinions etc. may impact the ranking as well. Top10SubscriptionBoxes cannot and does not present information about every subscription box available for purchase.
Close
About VetPet Box
VetPet Box is a subscription service created by veterinarians with the aim to provide expert support in the day-to-day care of your dog or cat. The VetPet network of veterinarians is dedicated to educating pet owners and improving the health of their pets.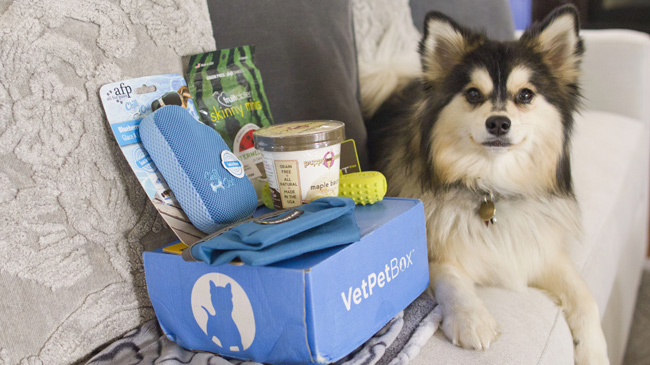 Each monthly VetPet Box is delivered to your door filled with durable toys, nutritious treats, accessories, wellness products, and useful educational materials. Hand-picked by the VetPet team, all the items included in the box are of the highest quality. Treats are made in the USA or Canada and they are carefully selected to fit your pet's allergy profile. All wellness products, such as supplements, shampoo, toothpaste, ear flush, and others, are vet-approved and designed to enable you to provide the best preventative care to your pet. You also get vet-authored educational materials that will help you understand various topics related to your pet's health and provide you with information about common health problems so that you can recognize the relevant symptoms on time.
New subscribers are asked to provide some information about their pets so that the VetPet team can tailor each monthly box to individual needs and preferences of every cat or dog. Among other things, you will be asked to provide details about your pet's allergies and chew/playstyle and the VetPet team will use your answers to select the appropriate treats and toys for your pet. You can update any part of your pet's profile later from your account page.
The price of the VetPet Box for dogs depends on your dog's size. There are boxes for petite, small, medium, large and giant dogs, with prices starting from $35, $39, $41, $44, and $44 for each box, respectively. VetPet Box provides Single Cat and Multi Cat boxes. The price of the Single Cat box starts form $35 and the price of the Multi Cat box, which is suitable for households with 2 or more cats, starts from $41. Whichever of these options you select, you can choose between month-to-month, 3-month or 6-month subscriptions.
Shipping is free inside the contiguous US. If you are not satisfied with any of the products you receive, you may return it and the company will send you a replacement item in your next box.
You can also purchase the VetPet Box subscription as a gift. Unlike standard subscriptions, gift subscriptions do not automatically renew.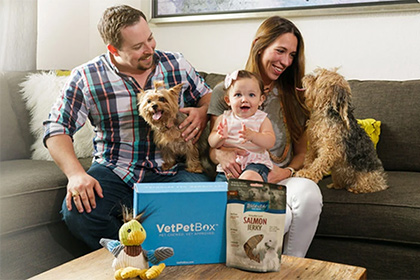 Pricing and Shipping
Price: $FROM $35
Shipping cost: FREE IN US
Ships from: United States
Ships to: Canada, United States