GET READY FOR THE SWEETEST SURPRISE
Surprise Sweets Box Review - UPDATED Mar 2019
About Surprise Sweets Box
Have you ever dreamed about a magical button you could press and have delicious treats appear at your doorstep? We sure have and now with Amazon Prime Surprise Sweets Box, this dream has finally become a reality.


The first step of this Amazon adventure is purchasing your Prime Surprise Sweets Dash Button – a super-cool Wi-Fi powered device that allows you to order a mystery box filled with sweets with a click of the button. Whenever you feel like indulging in a gorgeous selection of artisanal sweets, you just push the button and a surprise candy box appears at your doorstep in only two days. You can order as often as you wish, without any minimums or limitations.
The content of your candy subscription box is always a surprise. It is different every time and the products within the box are all unique. The candy you receive is freshly made in small batches by artisans who love their jobs. Amazon makes sure that you only get the best, high-quality treats. However, if you are not happy with your surprise candy, you can always get a refund.
Amazon's surprise candy subscription boxes are truly affordable and they also come with free shipping. The Dash Button costs $4.99, but you get a 4.99 discount on your first order, so you basically get this magical button for free.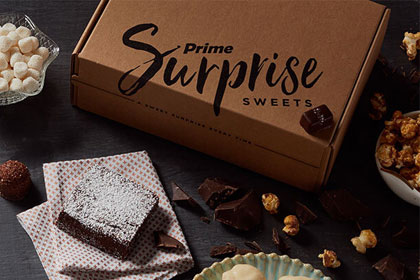 Pricing and Shipping
Price: $18.00
Shipping cost: free
Ships from: United States
Ships to: United States