THEY DON'T MAKE 'EM LIKE THAT ANYMORE
Old Time Candy Review - UPDATED Mar 2019
About Old Time Candy
Old Time Candy wants to bring back all of those sweet childhood memories and allow you to find out what candy used to taste like over a century ago. It is a true gem among candy subscription services and we were extremely excited to give it a try. It sure did not disappoint.


You have over 700 options to choose from, enough to make your head spin and mouth water. You can browse candy by decade, type, flavor, and occasion. In the Candy By Decade section, you can find pre-1920s, 1920s, 1930s, 1940s, 1950s, 1960s, 1970s, 1980s, and 1990s candy. There are 10 distinct flavors and just as many candy types, including bubble gum, cotton candy, candy cigars and cigarettes, lollipops, candy drops and sticks, and more. You can buy candy for Father's Day, birthdays, parties, graduation, and baseball and summer sweets, as well as thank-you and get-well-soon candy.
All items in the Old Time Candy store are perfect gifts for family and friends of all ages. You can purchase special candy gifts, including decade gift boxes, personalized candy bar wrappers, lunch boxes with candy, and many other delightful and creative gifts. Old Time Candy also allows you to buy candy in bulk or pack a bag filled with all of your favorites.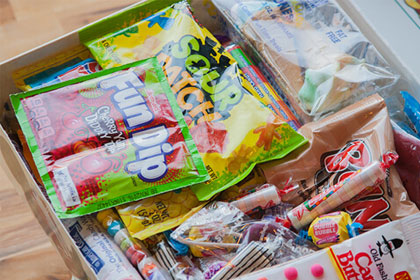 Pricing and Shipping
Price: $24.99
Shipping cost: free over $250
Ships from: United States
Ships to: Worldwide