World-Themed Boxes For Little Explorers
Little Passports Review - UPDATED Sep 2023
Advertiser Disclosure
Top10SubscriptionBoxes.com is an independent website supported by referral fees of certain sites ranked on this site. Our site receives compensation from some of the subscription box sites whose products we present here. Compensation we receive impacts the ranking of the products. Other factors such as quality of the products, our own opinions etc. may impact the ranking as well. Top10SubscriptionBoxes cannot and does not present information about every subscription box available for purchase.
Close
About Little Passports
Founded by two moms who wanted to create fun, educational tools for children, Little Passports is a subscription service offering creative toys, games, and activities that help kids learn about the world. All the inspirational materials included in the Little Passports subscriptions were developed in close collaboration with parents and educators and later tested directly with children to ensure an engaging educational experience. A Little Passports subscription is a perfect gift for your little ones that will fuel their imagination and inspire them to explore the world around them.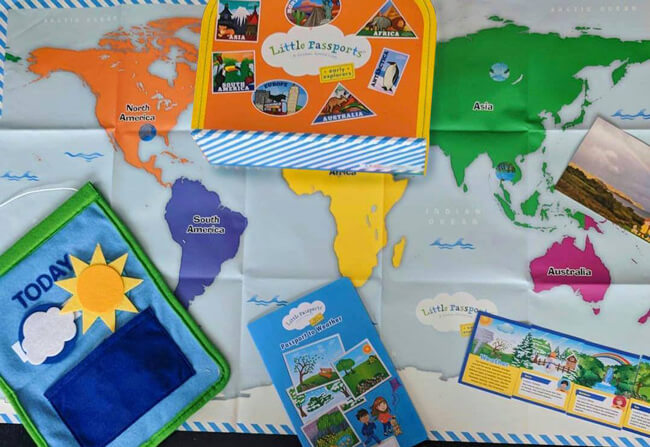 This award-winning service offers 4 subscription plans. With the Early Explorers Subscription, created for 3- to 5-year-olds, children receive an exciting themed package each month, loaded with fun, hands-on activities that encourage them to explore world themes, such as animals, food, music, art, oceans, natural wonders, and much more. The monthly subscription costs $18.95.
The World Edition is the most popular Little Passports subscription. It allows kids to explore the world and new cultures by learning about one country at a time. Each package comes loaded with interesting projects, activities, puzzles, toys, souvenirs, and collectibles, plus a boarding pass that provides access to more information online. The subscription is designed for 6- to 10-year-old kids. Subscribers pay $16.95 per month for the standard edition and $26.90 per month for the premium edition.
The USA Edition Subscription enables 7- to 12-year-old children to discover the USA by learning about two new states each month through fun offline and online projects and activities. The price of the monthly subscription is $14.95. Finally, the Science Expeditions Subscription, which is suitable for children aged 9+ and costs $21.95 per month, brings hands-on science experiments that will spark your kid's curiosity.
With each subscription plan, you can save some money by paying for 6 or 12 months in advance.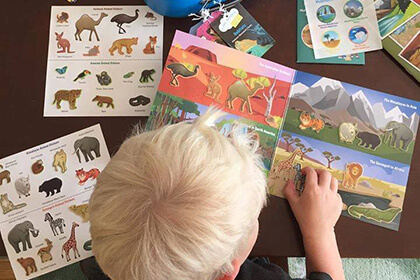 Pricing and Shipping
Price: $12.95
Shipping cost: $3–$4/MO to the US; UP TO $6.50/MO to NON-US
Ships from: United States
Ships to: Canada, United Kingdom, United States