AWAKEN YOUR SENSE OF ADVENTURE
BattlBox Review - UPDATED Mar 2019
About BattlBox
Battlbox subscription boxes are designed for men with a sense of adventure and contain the most useful and high-quality survival and tactical gear. The boxes are delivered monthly and the content is always a surprise.


Every month, Battlbox comes up with a new theme for its boxes. The themes are incredibly varied and suitable for a variety of outdoor activities, including hiking, sailing, hunting, camping, and much more. You can check out the contents of previous boxes on the website. The content is revealed every time the box for the current month is shipped, allowing new subscribers to get a sense of what they can expect to receive. Along with the list of items, you also get to view an entertaining video clip that provides you with a better insight into the features and uses of the items.
The number of items in the boxes varies, but most of the time, you get at least 4-5 items. You can choose from 4 different types of boxes: the Basic Box, the Advanced Box, the Pro Box, and the Pro Plus Box. All boxes contain the items included in the basic box, but the more advanced versions also feature exclusive additional items. If you have missed a box you really like, you can purchase it at the customer-only Battlebox online store.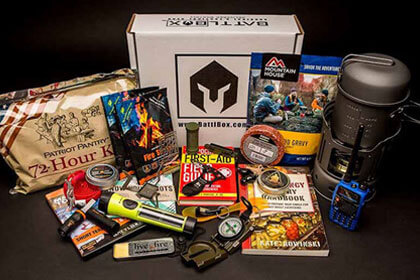 Pricing and Shipping
Price: $24.99
Shipping cost: n/a
Ships from: United States
Ships to: Canada, United States